By: Craig Montgomery, Account Executive
The "No Call, No Show" Nightmare
One of the most annoying aspects of being a call center operator are the "No Call, No Shows".  An agent that you've spent time and money on decides to leave without any prior notice or communication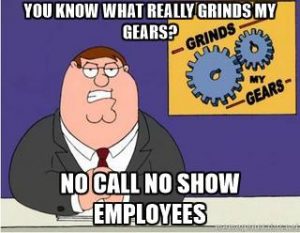 . Not only is it  frustrating but it puts a major burden on staff to pick up the "slack".  Sometimes agents that No Call, No Show, are low performing agents that you honestly aren't going to miss a great deal. Sometimes they were going to be performance managed out of their position anyway. In these cases, an operator is aware of the situation and has visibility and control. When you are blindsided by a great performer leaving with no notice it can be exasperating and impactful to operations.  How can you keep a pulse on what's going on with your agents so you won't face any surprises? 
AnswerOn is the solution for the problem of No Call No Show.
We use Predictive Analytics to identify agents who are high risk and recommend tailored manager interventions to uncover and suggest what is really going on with the agent and how to save them. We also use Virtual Focus Groups to provide agents with a safe space to share their thoughts about their jobs, cultural and job satisfaction. Through these and other aspects of the AnswerOn solution, we provide a way to proactively get to these valuable agents before they leave.
Equip your staff with the number one killer of No Call No Shows, AnswerOn Prescriptive Analytics! Who's going to leave, why they're going to leave, and what you can do to save them . For more information on how AnswerOn can help you develop a better understanding of how your agents feel before they No Call, No Show on you, contact our Sales Team.